Thank you to all of the volunteers, members and visitors who made CHAA's 30th anniversary celebration on the weekend of June 13 and 14, 2015 at Tillsonburg Regional Airport such a success!
The weather was less than ideal both mornings, but the CHAA spirit prevailed and we had some memorable moments both afternoons.
Saturday afternoon saw Harvards take to the skies, including a ride for 90-year-old Russ Moseley of Midland who was a flight instructor in the BCATP from 1942 to 1945.  He shared some wonderful stories of his time instructing at St. Catharines and Dunnville and was tickled pink to return to the air in a Harvard for the first time in 70 years.  Ironically, just before he climbed into one of our Harvards, we checked his log book and realized he had flown 3222, Kent Beckham's MKA, at Dunnville.  Unfortunately, Kent was about to depart CYTB to participate in a flypast then practice with the Harvard Aerobatic Team, so allowing Mr. Moseley to get up front and personal with an aircraft he had flown more than 70 years earlier was not possible – at least on this day.  We agreed it's something to look forward to in the coming days.
(CHAA's Rob Pejsa prepares to take Russ Moseley for his first Harvard ride in 70 years.  Photo courtesy Pat Hanna)
Three former CHAA presidents joined us for a "storytelling" session Saturday afternoon. Lauren Lee, Kip Davis and Dave Timms informed and entertained the crowd for a full hour.  We thank them for sharing their memories and thoughts of their involvement in CHAA over the years.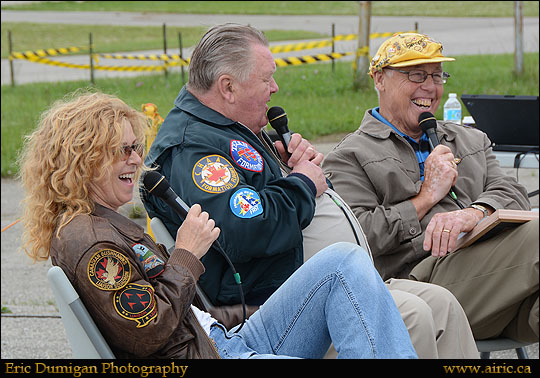 (Photo courtesy of Eric Dumigan – http://www.airic.ca )
Saturday also saw CHAA's Bill Shepard do several flypasts in the P-51C Mustang from the Commemorative Air Force Red Tail Squadron.  Bill departed Sunday afternoon for Colorado before heading to the Seattle area for the next stop on the Rise Above tour.  Learn more here:   http://www.redtail.org/
(Photo courtesy Pat Hanna)
Despite the low ceiling and frequent downpours, a handful of folks joined us in the hangar on Sunday to check out the remarkable history and archive displays, the Stores merchandise and information tables of the Dive Recovery Team and Catharine Cowan's framed Harvard poem.  Here's an interview Terry Scott did with Catharine on Saturday in which she recites her wonderful poem:
Without a doubt, the highlight of the weekend was the Sunday afternoon storytelling session with two of CHAA's founding fathers – Bob Hewitt and Len Fallowfield.  It was a sometimes emotional discussion as Bob and Len told of how CHAA was formed in the mid 80's, how the late Norm Beckham flew (solo) the first CHAA owned Harvard from Norwich to Woodstock (without EVER being checked out on a Harvard) and how they are humbled by the remarkable growth and state of the association today.  Thank you, gentlemen!  You have instilled in every CHAA member a sense of pride and camaraderie that is unmatched in any other aviation group.
(Len Fallowfield and Bob Hewitt – Photo courtesy Pat Hanna)
Enjoy the storytelling session with host Terry Scott: