As part of our on-going efforts to restore our fleet of Harvards to their original BCATP/RCAF schemes, the Canadian Harvard Aircraft Association has developed a campaign to raise funds for CF-UFZ, affectionately known as 'Bessy'.
The 'Sign Bessy' program was started in the spring of 2013.  The goal is to raise enough funding to allow us to completely repaint Bessy and bring her back to the RCAF colour scheme.
Your personal  message (maximum space of 6″x6″) can be placed on Bessy for a

minimum

donation of $20.
Messages can include names, memoriams, short poems, etc.  Messages containing foul language or inappropriate content are not permissible.
Once we have acquired enough signatures 'Bessy' will then be moved to the paint shop for a complete face-lift.
You can support this campaign by donating now.
Total signatures to date = 96
Look for 'Bessy' at our scheduled Open House events, local air shows, fly-ins, and displays.
Harvard Mk 4  20321
CF-UFZ 'Bessy'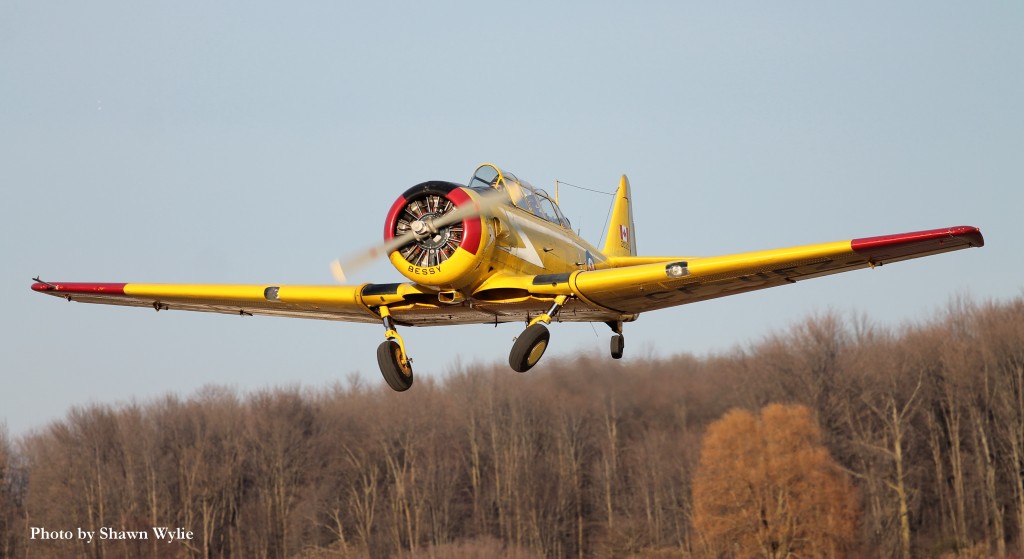 Manufacturer:  Canadian Car & Foundry, Fort William, Ontario
Entered Service:  June 10, 1952
Off Strength:  February 21, 1966
Served:  1 Air Navigation School, Summerside, PEI; 2 FTS Moose Jaw, Saskatchewan; 4 FTS Penhold, Alberta
Other History
Purchased by Albert Beach, Burns Lake, British Columbia, in 1966.  UFZ was then bought by Tony and Mary Swain, of Vancouver, British Columbia in 1971.  Tony, a former director for the Canadian Owners and Pilots Association (COPA) flew 'Bessy' for over 30 years.  UFZ was purchased under CHAA's Class "B" Museum designation in 2005 and was delivered to Tillsonburg in March 2006.  An overhauled engine was installed over the 2008-2009 season.
 

"

Bringing 'Bessy' Home" – The Story
 Read the story of UFZ's travels as she departs Delta, BC to become part of our fleet!
Part I… The former owner gives his 'Goodbyes'
Part II….The Departure
Part III….The Arrival
Visit our 'Sign Bessy' Facebook page to follow our progress!

For more information about other CHAA aircraft click here